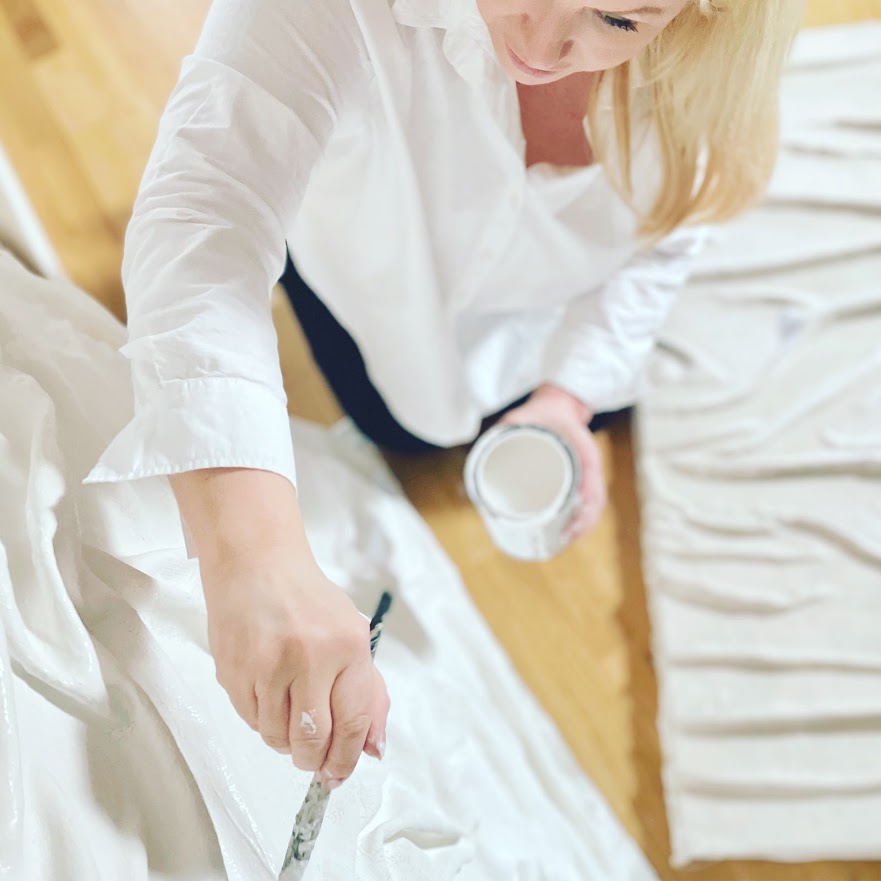 "I often see beauty in the simple things "  
Emerging Visual Artist Anna Sophia Rydgren is living in Stockholm, where she also has her own studio and runs ARY ART.
Color and form have always been a part of her life, as she grew up in a home where creation was the work of daily living.
The painting, working with fabric and clay with her family made a great impact on her growing up and has now her full attention.
She has lived and worked abroad for some years, but is now back home in Sweden since a couple of years and are working on her own creations full time. As a young, Anna Sophia attended several art schools and focused on her studies in the art of painting and croquis . Later on also studies in interior design and garden design.
Anna Sophia mainly paints with larger brushes in acrylic and oil and for the 3D sculptural paintings, she has developed her own unique technic in Mixed Media and fabric.
She likes to paint in modern warm minimalistic form and she inspires by simple organic forms from nature, as well as sculptures and aesthetics from different interior styles.
Her work often goes in white and grayscale as well as neutrals and pastels. The work is often flowing and intuitive on emotion in combination with the sculptural forms/ or strong minimalistic elements with a lot of space.
The Scandinavian design heritage and the big interior design interest have been of great value in her work with its clean modern lines, light hues, blending of textures, and sleek minimalism.
She wants to give the viewer a sense of calm and be able to let the busy outside go and lose themself in the art pieces.
The future holds plans for many exhibitions, and her art is also attracted abroad by many interested collectors and galleries and has been exhibited in international art fairs/exhibits in Paris, Milan, London and now in Marbella, Brussel, and Madrid
You can see her artwork in nordic homes as well is owned by international collectors and displayed in galleries such as RedGallery, Monat Gallery, Van Gogh Art Gallery and on international Art fairs.
Contact
Email: anna@aryart.se
Studiomanager@aryart.se

WEBSITE PHOTOS
Please keep in mind that colors, shades, and textures may appear differently in photos than they do in person.
Our artworks are professionally photographed, and we make every effort to show them as true to the originals as possible; however, depending on the contrast, color settings, and brightness of your screen, the photographs may differ from the original painting.
PAYMENTS
For payments, we accept bank transfers and Paypal.
RETURNS AND REFUNDS
I'm committed to a 100% satisfaction guarantee. If you wish to return a painting you can contact me within 14 days after receiving your package. Please note that shipping costs are non-refundable.
The Commission list is now open.
For commission pieces:  25% of the total amount as a deposit.